Whether you're looking for a roofing contractor for your commercial building or residential home, or you're in need of an entirely new roofing system, Legacy Roofing Services is one of the largest and most respected roofing contractors in the Hudson area. Licensed and insured, Legacy has grown quickly through repeat customers and referrals from the quality of work performed.

On This Page
Hudson's Preferred Roofing Contractors
Services we offer our Hudson clients
Legacy Roofing Services: One of the Best Rated Hudson OH Roofing Contractors and Vinyl Siding Providers
We Provide Residential Installment and Repairs in Hudson OH
Supplement Your Roof With Our Seamless Gutter Systems and Vinyl Siding Installation
We are Your Hudson Area Storm Damage Repairs Go-To Company
We Are Specialists in Hudson OH Area Commercial Roofing
Hudson Ohio Area Commercial Roof Repairs and Maintenance
Why Choose Legacy Roofing
Roofing Reviews From Happy Clients
About Hudson, OH
Local Hudson favorites
Related Hudson Searches

Roofing Reviews From Happy Clients Review
"This is a first rate company. They are very responsive, their Service Tech's were uniformed with I.D. lanyards, polite and they quickly located and resolved the problems. The invoice even contained multiple pics of the problem found and the repairs made. Legacy Roofing are clearly experts at what they do." Bud Buxton
"Great company. Honest company. Would hire again." Chris Meredith Chris

Legacy Roofing Services: One of the Best Rated Hudson OH Roofing Contractors and Vinyl Siding Providers
Legacy Roofing Services have been replacing and repairing roofs for commercial and domestic clients for more than five years. We are a licensed, insured, and award-winning company which has expanded thanks to the referrals and repeat business of our satisfied clients. Whether your roof needs repairs following a storm or you require a complete new roof, we can provide sustainable, long lasting and energy efficient protection for your office or home to fit your needs and budget.

We Provide Residential Installment and Repairs in Hudson OH
As a residential roofing company, we appreciate that a roof is a vital investment for a homeowner, which is the reason why we provide transparency from start to finish to every potential client, so they can make the best informed decision on their purchase. We equip every homeowner with knowledge of the numerous roofing products and materials available so that they can select the desired appearance and durability which best works for their spending budget.
We are an authorized installation specialist for a number of leading roofing companies including Owens Corning, CertainTeed, GAF, and more. You will have many different shingle designs and colors to pick from. Advanced warranties are available to help you safeguard your roof investment whilst it provides protection for your property.

Supplement Your Roof With Our Seamless Gutter Systems and Vinyl Siding Installation
Legacy Roofing is also a Hudson area vinyl siding and seamless gutter installation contractor. We supply these modern vinyl products to enhance and protect your home from the damaging effects of the elements. You don't have to know how to install vinyl siding as we do all of it for you, and will provide you with color and style choices together with the benefits and costs of the very latest siding products. Your property's appearance will be improved by our vinyl components that have been designed to resist heat, wind and moisture from the exterior of your property.
A seamless gutter will direct water away from your property to shield it from moisture and mold damage. Our guttering blends in with the appearance of your property.

We are Your Hudson Area Storm Damage Repairs Go-To Company
All sorts of weather conditions can damage a property's roof, a lot of which cannot be seen from ground level. If you notice that your roof has curled, torn or missing shingles, these could be signs of wind damage. If a recent storm has had damaging effects in your area, get in touch with us at Legacy Roofing Services for a free storm damage assessment to ascertain if repairs are necessary. We'll also provide you with info in regard to submitting a compensation claim with your insurer so you'll get the fullest amount of allowed compensation. We're fully trained to establish storm damage in keeping with industry standards.
Damage inflicted by hail tends to be particularly tricky as it creates small dents, marks and cracks which can remain unnoticed on a roof. We can check out your roof after a hail storm to check for indications of damage by hail and subsequently make repair suggestions.

We Are Specialists in Hudson OH Area Commercial Roofing
Commercial roofing brings a complex range of challenges. There are numerous insulation, application procedures, materials and warranty alternatives to take into consideration to protect your business. As a friendly local commercial roofing contractor in Hudson Ohio, our staff stays informed about the latest roofing industry trends and materials. We'll take you step-by-step through the whole process of replacing or upgrading your roof with a new one that meets your needs and allotted budget.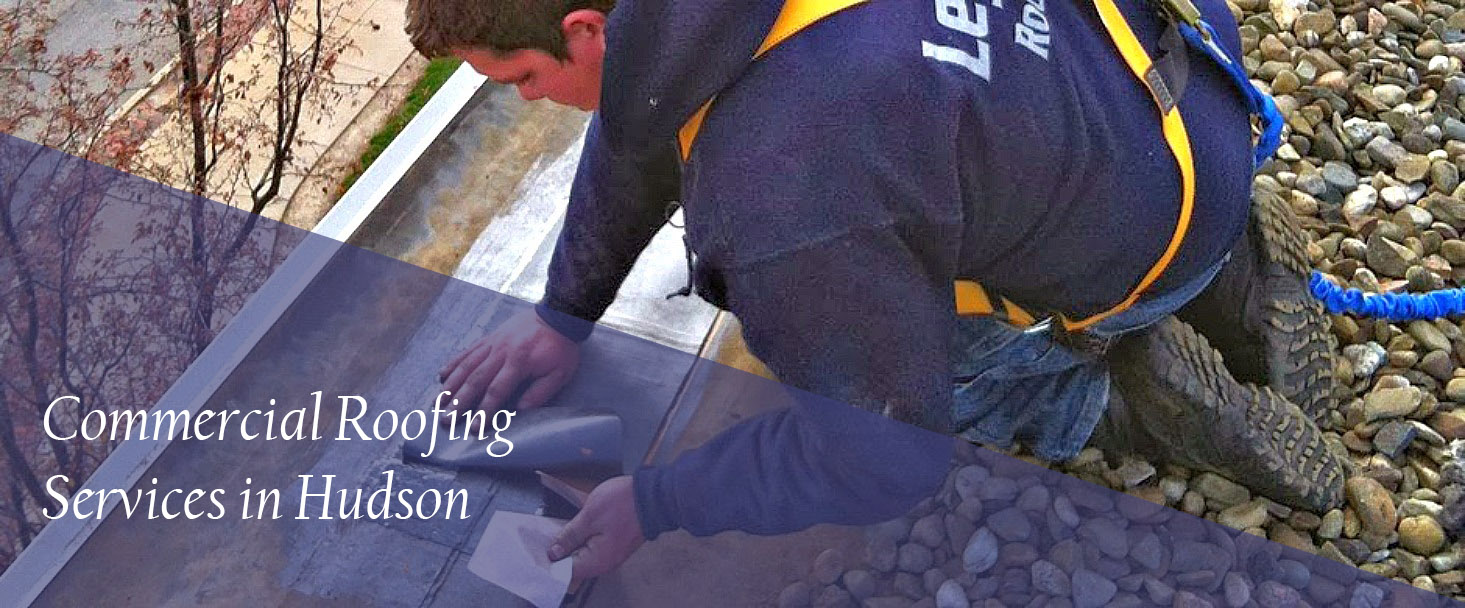 We at Legacy Roofing Services are proud to have repaired and installed the roofs of a wide variety of commercial companies including hospitals, private schools, places or worship, manufacturers, apartment complexes and retail shopping plazas. We're fully qualified at putting in PVC, TPO, EPDM and metal roofs.

Hudson Ohio Area Commercial Roof Repairs and Maintenance
Damage caused to commercial roofs, whether from storms or other causes, quite often require an emergency service so that your company can be up and running and dealing with customers. Legacy Roofing Services has its own devoted Repair and Service Division which responds to emergency roof repair calls in the Hudson Ohio area, 24 / 7. Our expert team will arrive at your commercial building immediately to evaluate the damages and start making repairs.
Additionally we offer revolutionary infrared scanning technology as an element of our roof maintenance services. With these infrared inspections we can uncover water damaged areas and leaks to establish if a roof can be restored rather than being completely replaced, thereby reducing costs. Other roof replacement related services include evaluation, cost evaluation and budgeting and consulting.

Why Choose Legacy Roofing?
Legacy Roofing Services is one of the leading locally based roofing companies in the Hudson, Ohio area. Unlike other roofing companies, we work together with leading roof component suppliers to offer extended warranties to our clients. We hold membership in several industry associations such as the Midwest Roofing Contractors Association (MRCA) and the Building Owners and Managers Association.
Our customers love our thorougness, high standard of workmanship and transparency which has helped us to rank among the top hundred roofing contractors in in the United States of America. We have the top grade of steep slope and low slope accreditations, and are accredited members of the highly respected Better Business Bureau. Whether you have a residential property or commercial building that needs maintenance or a new roof, get in touch straight away for a free quotation.
Roofers Near Hudson, OH
2350 N Cleveland Massillon Rd
Bath Township, OH 44333
(440) 476-8244
service@legacyrfg.com
About Hudson, OH
Hudson is a city in Ohio with a population of 22,262. This Akron suburb is a center for recreation with a number of parks lined up. The prominent one is the Hudson springs park. Here you can go kayaking, canoeing, boating in the nearby lake. Fishing and walking are the other activities the visitors indulge here. Sports like disc golf, sand volleyball and the like are promoted here. The other parks include Cascade Park, Barlow Farm Park, And Colony Park in its neighborhood. Other places of interest Include Maclaren Woods, Bicentennial Woods, Trunbull Woods and so on. Jo-AnnStores, Allstate Insurance Company, University Hospital Hudson and so on are the job providers in this city. The Hudson Library and Historical Society are a must-visit here. Editor New YorkTimes R W Apple, abolitionist John Brown and father Owen Brown, industrialist James Ellsworth and so on are the notable people here.
Are you new to Hudson? Check out these local favorites: Related Hudson OH Roofing Searches

local roofing companies near me Hudson OH
best roofing company in Hudson
Hudson best roofers near me
local roofing contractors Hudson OH
roofing repair companies near me in Hudson
Hudson commercial roofing companies near me
local roofers near me Hudson OH
roofing companies in my area in Hudson
Hudson roofers near me reviews
residential roofing company Hudson OH
commercial roof repair near me in Hudson
Hudson flat roofing contractors near me
premier roofing company Hudson OH
best roofing contractors in Hudson
Hudson flat roofing contractors
Legacy Roofing Services supports clients throughout all of Hudson, Ohio, including the following zip codes: 44224, 44236, 44237. Click here to return to our OH service area page.